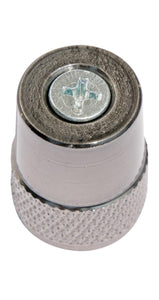 Type K Classic Canes metal ferrule with screw fitting, various sizes
A smart and practical metal ferrule in a dark silver colour.  The base of the ferrule contains an aperture through which a screw is placed, to screw the ferrule firmly to the end of a wooden walking stick.  This ensures the ferrule will not fall off as the natural wood of the walking stick expands and contracts. 

Available in sizes (internal diameter): 16, 17, 18, 19, 20, 21, 22, 23, 24 & 25mm.